CDR WEART
Captain H. Cordie Weart, U.S. Navy
"No matter how brilliant a man may be, he will never engender confidence in his subordinates and associates if he lacks simple honesty and moral courage."

                                           -- J. Lawton Collins
__________
Is this a resume of unblemished, unselfish, heroic service?
__________
     A search of more than 6,200 recipients of the meritorious "DFC" found no Weart listed.  No doubt one was awarded but his name failed to be recorded. 
     However, a review of VP-31 records revealed that ENS Weart did distinguish himself by being involved in the highest number of VP-31 mishaps involving the loss of 3 lives, which two were civilian, one aircraft struck and one aircraft in which he sustained major damage. This was the same valuable plane he was awarded his peace time DFC for saving 6 weeks earlier.
25 SEP 41 A/C PBY-5
(Major Aircraft Damage -- 3 Deaths)
13 DEC 41 A/C PBY-5
(Major Aircraft Damage)
09 MAR 42 A/C PBY-5
(Aircraft Struck)
__________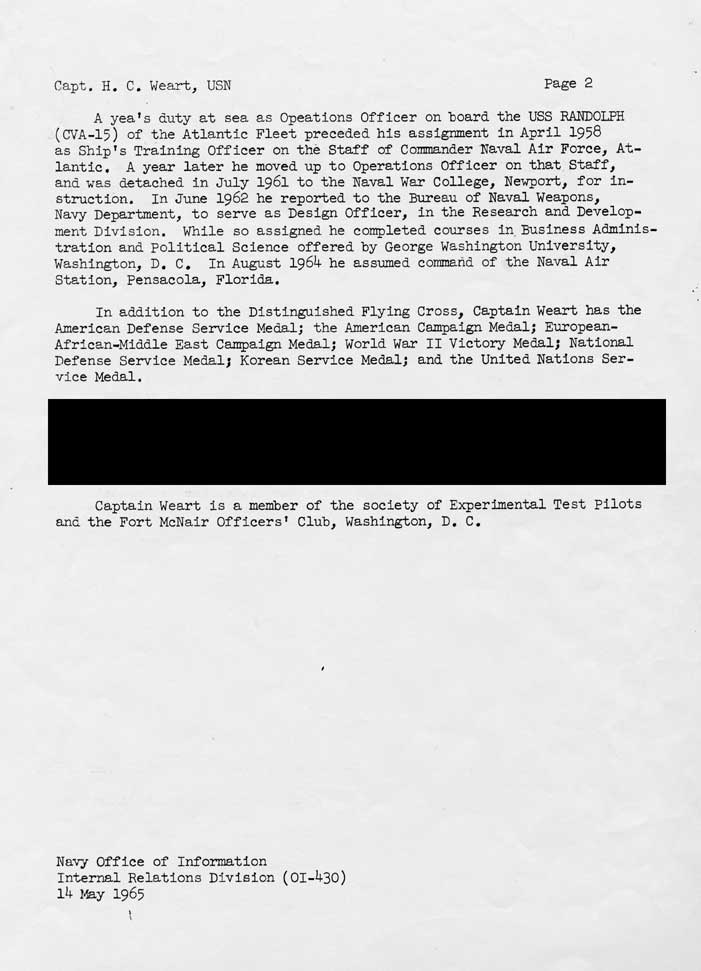 __________
Cdr. Weart puts himself in for medals but not his dead subordinates.
 "Dear Satch,  
 As a result of my participation in operational flights identical to that of your Father I was later awarded both the US and UN Korean Service Medals. Based on the presumption that these awards were properly made in my case, it follows that your Father and crew equally earned these medals. I trust that the Navy presented them to Polly."
--- Excerpted letter Navy Captain Coleman Sims-Retired-now deceased ---
__________
     I traveled to Whidbey Island to interview a former VP-2 member Russ Horn.  At the time of our meeting he was VP-2's squadron historian for which he proved himself very knowledgeable.  Another of our family members accompanied me to visit him and his wife in their Oak Harbor home.  This retired Navy aircrewman had served with my father and had much actual experience with peripheral patrol missions involving the P2V Neptune.  I found him willing to share much helpful information and later after I returned home he continued to answer my frequent questions by letter right up until his sudden death.
     From his collection of memorabilia he produced a small booklet Titled 'PATRON TWO ADDRESS BOOK'.  It was a 1953/54 VP-2 roster of the 'ALASKA -JAPAN- KOREA' deployments containing the names and addresses of just over 300 men.  A signed letter inside the front page explained that it had been created by VP-2's commanding officer  H.C. Cordie Weart.  As I looked over the small publication the historian remarked that many in the squadron didn't think it was right that Cordie had completely struck the names of my father and crew from the booklet without mentioning them in some other appropriate way.
CDR Weart's "Vaporization" of his dead subordinates
"People simply disappeared, always during the night. Your name was removed from the registers, every record of everything you had ever done was wiped out, your one-time existence was denied and then forgotten. You were abolished, annihilated: vaporized was the usual word."
                              Quote- From George Orwell's Novel '1984'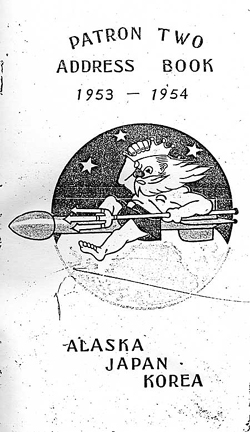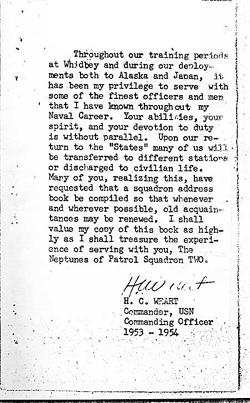 Next he began to relate an incident which had occurred before the squadrons December 26, 1953 Iwakuni deployment. This incident happened while he was serving aboard a P2V Neptune in which the pilot was receiving flight training from Cdr. Weart.  As he described it, the training procedure involved single engine maneuvers with the twin engined Neptune. The lesson had begun with the aircraft at a safer high altitude but as the maneuver continued with the pilot struggling to arrest the aircrafts decent, the instructor allowed the plane to descend within close proximity of the terrain.  As I recall his words, "below the tree line." At this point the plane captain, who was sitting behind the two pilots, sprang from his position and pushed both throttles forward. The pilot and CDR Weart also applied throttles but just behind the quicker plane captain.
     "What is your hand doing in front of mine" he claimed Weart shouted. And then began to harangue the plane captain for his action to save the plane. The historian added that all the crew had felt imperiled by the extreme low altitude and immediate action was required to avoid the terrain.  He continued that the reprimand, in his opinion, was excessive and uncalled-for considering the proximity of the aircraft with the ground.  Finally, he considered it a reckless act on the part of the instructor for not recovering the aircraft at a higher altitude.  The historian said that he did not personally receive the reprimand but that he did feel unnecessarily endangered by the carelessly low altitude that the aircraft was permitted to descend on one engine.  When he first began his story I considered that he was just another retired serviceman deprecating his former commanding officer but as I listened I felt that his concerns where well founded. The story was concluded by saying that he requested and received a transfer out of VP-2 because he did not want to serve under Cdr. Weart after this incident.
(Click to Enlarge)
And another unsolicited candid comment:
     "I went out in the yard and spent the afternoon cleaning up brush. While doing that, I let my mind wander and I thought back of all the times that Weart had chewed my butt out for one thing or another and there were plenty of occasions. In every case, he was wrong and I was right but the man never once acknowledged this nor apologized."
              Email excerpt from a former Patrol Plane Commander and retired 747 Captain
     " Just before I left the squadron, I asked him to recommend me for the Navy Test Pilots' School course at NAS Patuxent River, MD. Instead, he recommended himself and was subsequently awarded the assignment."
               Email excerpt from a former VP-2 intrepid Patrol Plane Commander
"Hi Sister Mary,

Yep, I've been called back to my old squadron to go to Iwakuni with them. I'm replacing the maintenance officer who has a sick wife. It kind of burns me up but I guess I'll be better off in the long run.
Love, Bud"
Despite the reasons given my father to call him back, CDR Cordie Weart sent the maintenance officer to Iwakuni also.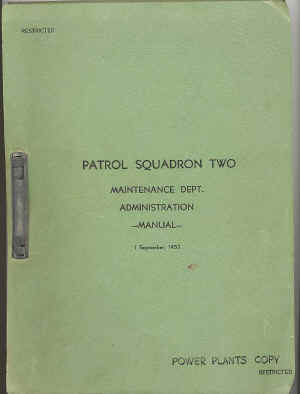 PATROL SQUADRON TWO
MAINTENANCE DEPT.
ADMININISTRATION MANUAL
CHAPTER I
MISSION, ORGANIZATION, RESPONSIBILITY AND DUTIES OF PERSONEL
101. MISSION

The mission of the Maintenance Department is to maintain all assigned aircraft in the maximum state of readiness for combat.
103. DUTIES OF THE MAINTENANCE OFFICER
1. He is the representative of the Commanding Officer in all matters that pertain to the maintenance department and shall confer directly with the Commanding Officer on any matters relating to his department whenever he believes such action appropriate.
2. He shall keep the Commanding Officer informed as to the general conditions existing in the Maintenance Department, the progress of work being done and the operational readiness of aircraft.
APPROVED:
H.C. WEART, CDR, USN
Commanding Officer
NOT COMBAT READY FOR YELLOW SEA AND KOREA
Found in my father's accident report was this note that a directive had been issued prior to the Iwakuni deployment:
Ref: (a) COMAIRPAC ltr ser 70/26344 of 30 November 1953
By reference (a), it is directed that all patrol aircraft deployed to foreign operating areas be equipped with AN/ARC-1 VHF equipment as a dual installation with UHF.
          "Satch,
This is simply another case of, "This is all we have, boys, so you just have to live with it.  It matters not whether they were killed by the Commies or by our own side that provided them with inferior equipment. The result is the same."
Email excerpt from a former VP-2 intrepid Patrol Plane Commander
      Failure to comply with 'directive 70/26344' hazarded the aircraft and invited the tragedy which followed.  CDR Weart was guilty of willful dereliction in the performance of his position of authority.  Prior to commanding VP-2, CDR Weart served as the Navy's Assistant head of 'Directives and Releases Department' Washington, D. C.
     This assignment would have provided CDR Weart with firsthand experience with 'directives' and knowledge of the life saving importance that directives constitute. He would have known directives are, in many instances, issued when problem areas are identified after loss of life.
     Furthermore it must be stated that it was a willful failure on the part of CDR  Weart to exercise the care and prudence which the interests of the Government require to be exercised by a prudent and reasonable person under the circumstances as the commanding officer of Squadron VP-2.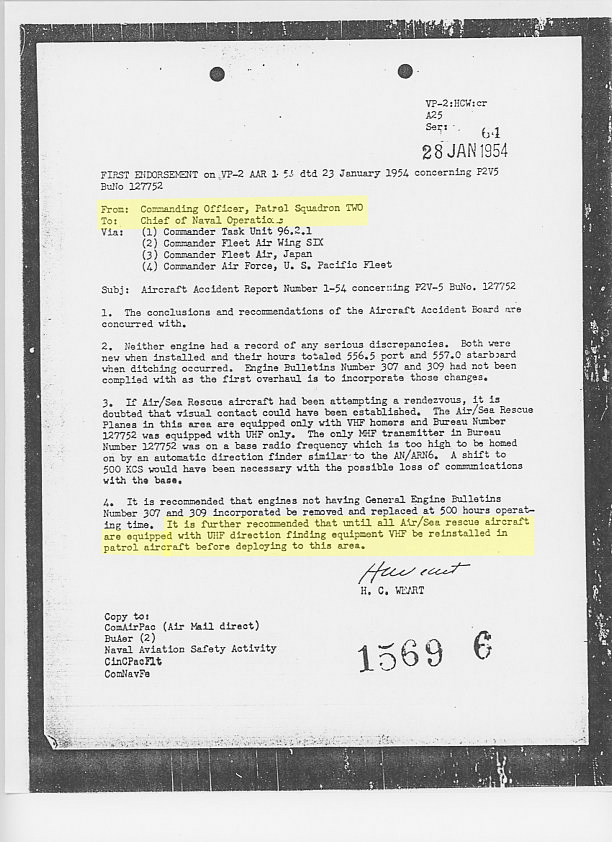 Making no mention to Chief of Naval Operations for the failure to comply with the already published Directive
or the failure of AIR WING SIX to dispatch Air/Sea Rescue in a time of need,
CDR Weart recommends "the re-installation of VHF radio in patrol aircraft before deploying to this area".
Found in the Aircraft Accident Report 3 Cape Cod was airborne for a total of 8.9 hours.
     But my Father's AVIATORS FLIGHT LOG BOOK, which was returned to Mother, gives an official entry of 5.3 that my father had served in the line of duty. This false representation with the intent to deceive is certified by CDR Weart.
(Click to Enlarge)
Character of last flight is listed as a Combat Flight "1V2"
1= Daylight Visual V= Reconnaissance 2= Radar and ECM
The fatal flight was 4= NIGHT INSTRUMENT (ACTUAL)! A misrepresentation.
(Click to Enlarge)
Commanding Officer Patrol Squadron 2
Deployment Report
"One flight was ditched with loss of the crew, one was aborted after two attempts,
each of which resulted in engine failure."  
     The pilot experiencing the two engine failures told me a control valve became cocked each time the take-off roll was begun but the problem was corrected and they continued on.
     The flight (3 Cape Cod) did not ditch but crashed into a hill as a result of two attacks upon the plane 1½ hours apart.  This sentence was written to deceive.  No VP-2 squadron engines are found replaced due to engine failure during the entire 6 months of which 2030 accumulative hours were flown by the squadron.
Presumption of Death
The "Presumption of Death" is used in cases where there is no body available for the normal death certification process to be used. The "Presumption of Death" was not invoked in the disappearance of my father but instead at a time coinciding with the end of Cdr. Cordie Weart's deployment to Iwakuni this document states that "evidence establishing death" was received by the Casualty Branch on August 5, 1954.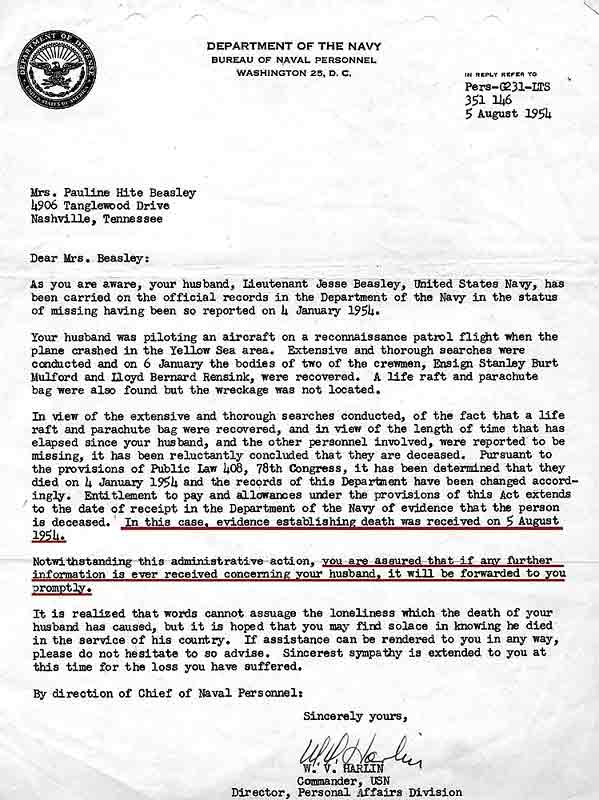 Without a shred of sincerity
Dear Polly, 22 January 1954
" When we return to the states I am planning to come by to see you.  In the mean time if I can do anything for you, please do not hesitate to write."
Sincerely yours,
H.C. Weart"
     Over the years many Navy friends and former VP-2 squadron members came to visit us but CDR Weart was never one of our visitors ….. we never saw or heard from him again.
Dear "Satch"
We remember your father and that he was a very fine man. We don't have any pictures that we can think of but do have a squadron memo about the accident of the plane."
Email excerpt from wife of a former VP-2 squadron member
__________
Profoundly deceptive "Facts" signed by H.C. Weart
     For his contribution to the conspiracy, he would not be held responsible to answer,
hazarding his planes and crews and received the Duty of his choice; thereafter choice duty.
__________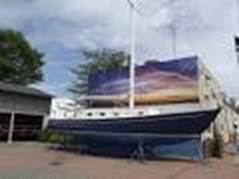 Captain Cordie Weart's "La Nube" (The Cloud) sailing yacht is now on display and dedicated to his memory. 
It may be visited at:
The Mariners Museum and park
100 Museum Dr.
New Port News, Virginia
Phone: 1 (800) 581-7245
http://www.marinersmuseum.org/blog/2013/08/flying-sailboat/
His spirit forever sails over the watery graves and through the flotsam & jetsam of widows and orphans left in the wake of his illustrious career.
"Every person in harm's way must know in his heart that if they should be killed, the government would do everything in its power to have the remains returned to the family."

"It is important that the whole world knows this is how the USA feels about its servicemen and women."

                                                                                    ----President George  W  Bush