UPDATED
-- December 14, 2018 --

MISSION ACCOMPLISHED
UPDATED
-- December 7, 2018 --

" I do not know with what weapons World War III will be fought,
but World War IV will be fought with sticks and stones."
----Albert Einstein 1947

To the Navy Widows
Denied truth and justice while they lived.
Visit: http://www.goldstarpins.org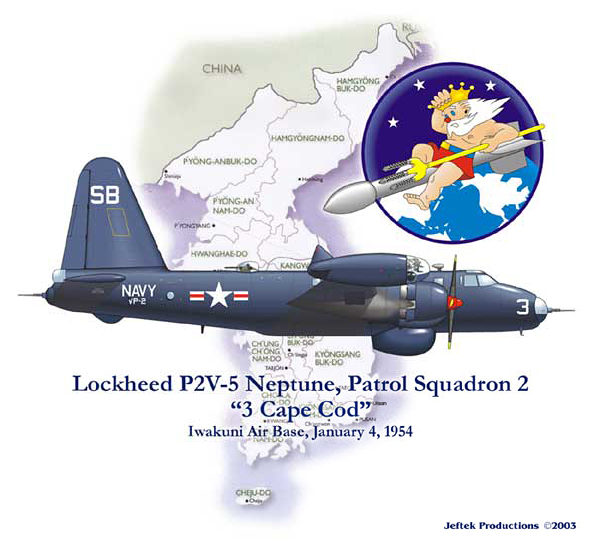 Lockheed P2V-5 Neptune, Patrol Squadron 2
"3 Cape Cod"
Iwakuni Air Base, January 4, 1954
CIA secret Neptune missions are reportedly to be opened and released 2022.
Some of the secrecy is uncovered and revealed here.
A Cold War Shoot-Down and Government Cover Up
The True Story of Cold War Heroes
Their secret deaths and secret disappearance
while engaged in an espionage mission
conducted over the Yellow Sea between China and North Korea
by the US Navy for

"Project Shamrock II."


(NOTE: "PROJECT SHAMROCK II" monitored cable traffic between government embassies.)

A compilation of historical facts, documents and interviews
that coalesce into a self-evident account of Navy servicemen "Abandoned Under Enemy Fire"
and prevented by politics from "Coming Home."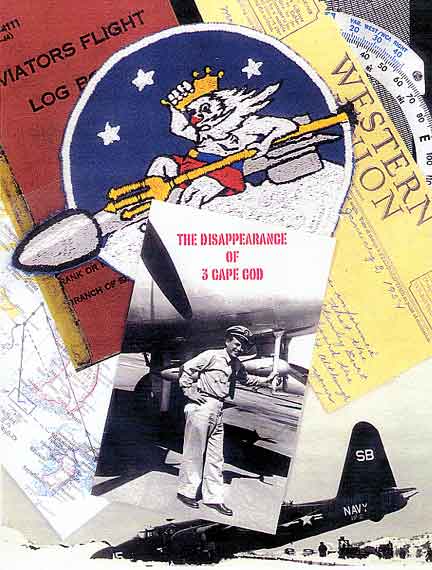 This is American History
He was our love, our support, our protector and suddenly he was gone- Why?

The mystery would bring me to a new understanding of government; and secrecy is not always for the greater good of the many but for the greater good of a few.
"People simply disappeared, always during the night. Your name was removed from the registers, every record of everything you had ever done was wiped out, your one-time existence was denied and then forgotten. You were abolished, annihilated: vaporized was the usual word."
                                                                                              Quote From George Orwell's Novel '1984'
It is dedicated to two American Patriots,
my Father and my Mother.
Both served our nation in uniform in time of war.
And to the unspeakable magnitude of
78,000 servicemen left behind from WWII
8,000 left behind from the Korean War
1,800 left behind from the Vietnam War
This accounting is now official
as told in Robert S. Miller's
America's Abandoned Sons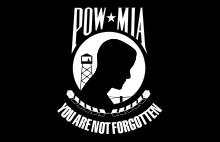 The POW/MIA flag is an American flag designed as a symbol of
citizen concern about United States military personnel taken as
Prisoners Of War (POWs) or listed as
Missing In Action (MIA).
"Every person in harm's way must know in his heart that if they should be killed, the government would do everything in its power to have the remains returned to the family."

"It is important that the whole world knows this is how the USA feels about its servicemen and women."

                                                                                    ----President George  W  Bush
"The cold war was the longest war in United States history. Lasting 50 years, the cold war cost thousands of lives, trillions of dollars, changed the course of history, and left America the only superpower in the world. Because of the nuclear capabilities of our enemy it was the most dangerous conflict our country ever faced. The threat of mass destruction left a permanent mark on American life and politics. Those that won this war did so in obscurity. Those that gave their lives in the cold war have never been properly honored."
                                                                                       ----Senator Harry Reid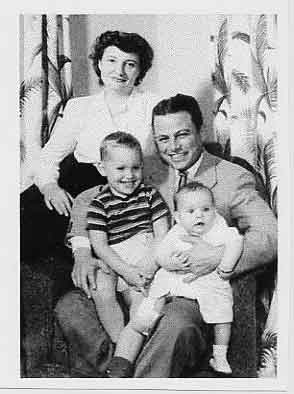 THE FAMILY OF A NAVY MAN
(Polly, Satch, Bud, and Sarah)
" Hi Sugah, ( My Aunt Mary ) ( No Date )
                   We're not to far from getting orders---- maybe as early as November---- and we're already getting itchy feet. Bud requested duty in Memphis. There is still hope we'll get it but Hutchinson, Kansas looms ominously on the scene. They have reactivated the base there.

              Love from us all, Polly"
              "Mary Darling, November 1953
                    A hurried letter to tell you of our change in plans. It's grim! Our tour of two years was up Dec. 1. For some unexplainable reason Bud was told it had been moved up to Aug. 54. He leaves the day after Christmas for six months in Japan. The children & I will stay here.

              Dearest love, Polly"
              "Hi Sister Mary, November 1953
Yep, I've been called back to my old squadron to go to Iwakuni with them. I'm replacing the maintenance officer who has a sick wife. It kind of burns me up but I guess I'll be better off in the long run.
              Love, Bud"
CHRISTMAS DAY, 1953
     The last time I saw my father was Christmas day 1953 at our duty station at Whidbey Island, Naval Air base in Washington State. We had just moved from Victory Housing in Oak Harbor to the just completed Title VIII apartments located on base. It was a real step up.  Victory Housing was only a little better than the Quonset huts we frequently lived in.  Hot in the summer, cold and drafty in the winter.  It was a wonderful day.  My sister Sarah and I received the traditional toys for our ages. Mine was a three-speed English bicycle which Daddy spent the day teaching me to ride.
     In the afternoon Daddy walked across the street, to the home of our good friend who was his plane captain, Arch.
     I proudly rode alone back and forth on the sidewalk in front of our new home.  At dusk he and Arch emerged from the apartment walking together straight towards me wearing hard expressions.  I could tell they were coming to see me for some reason so I put the kick stand down to park my new bike and stepped into our small yard to meet them.  Both men with the sternest looks I have ever witnessed from either, crowded into my space---really close.  I was forced to look almost straight up into their very serious faces.  It startled me, thinking I had done something wrong.  Only my father spoke, with Arch nodding in agreement.  Of what was said I have no memory; of the solemn moment I will never forget.  The encounter ended with me shaking my head in the affirmative, possibly extracting a pledge, an  oath, a promise or a vow.  Both men then turned and walked away never for me to see again.  It was a very unsettling parting. What it portended I would not have long to wait; what had caused their grave concern would take the rest of my life to understand.  
     The next day Navy Patrol Squadron VP-2 deployed across the Pacific to Iwakuni, Japan.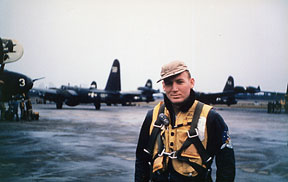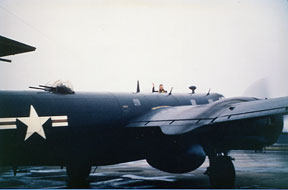 VP-2 Squadron Deployment Day December 26, 1953
Navigator Ensign Burt Mulford standing in front of and waving from 3 CapeCod.
His body recovered January 6, 1954.
Autopsy Finding: Exhaustion due to overexposure
     When school started after the holidays, mother allowed me to ride my new bike to Clover Valley School so that I could return home for lunch. Upon arriving home for lunch there were many strange men and women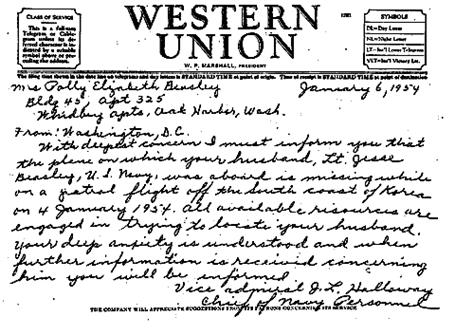 standing all around in our small apartment. M other's eyes were red but Arch's pregnant wife, Margit was crying inconsolably.  Into the somber atmosphere of the room I walked.  Mother told me, "Daddy is missing." Now at the age of eight having just passed from the rank of 'Bob Cat' to the high rank of 'Wolf' in the Cub Scouts and working assiduously toward the rank of 'Bear', one of the uniformed men standing before mother, turned to me and placed the weight of the world on my shoulders.   He said "you are now the man of the house!"   
     I suppose it was Mother's World War II experience as an Army Nurse which allowed her to hold it in at the time.  Over the next few years I would witness her having nervous breakdowns, requiring several days of attendance by doctors and relatives before subsiding.  
     There was a total of five children born to the wives of the missing men, which added to the already six brought the total to 11 fatherless children.  One month after Daddy was reported missing my brother David was born.  One month after his birth Mother moved her brood back to Tennessee.  Mother never remarried.  She always told us that Daddy was the love of her life, that there could be no other.  It was her intention to raise her family in the country on Daddy's 75 acre portion of a larger ancestral family farm surrounded by many aunts, uncles and cousins.  Originally, the land had been a Revolutionary War Grant which our ancestors have lived on it since 1795. 

Beasley Blood


A history of the Isham Beasley family. Beginning with the early Beasley family in North Carolina-Immigrants from Ireland-With Genealogy of Descendants of Isham and Polly Andrews Beasley- Pioneer Settlers in Smith County, Tennessee.

-----Excerpted from Page 144- Beasley Blood by Mary Beth Beasley Enoch and Cassie Dillard Draper- Printed 1989


     "Growing up in the midst of a large and caring family is the best upbringing a child can have and we, who were grandchildren of Tom and Kate Beasley, were abundantly blest with "family". As children we played all over our land and that of Uncle Mack, Uncle Ted and Uncle Jesse (Bud) with no boundries, limitations or inhibitions. We enjoyed a freedom bond of closeness that continues to this day, with some of my best friends today still being the cousins with whom I grew up in Dixon Springs. Many of the older kinfolks are gone now, but rather than dwell on their being gone, we honor their memory and reminisce about the special times when they were with us.

I remember Uncle Jesse (Bud) and what a tease he was. We could always tell when he was coming to visit, because he would throw rocks against the tin roof of our house; a racket which would wake the dead, and would invariably launch Daddy upon upon a verbal retaliation. Aunt Polly lives on the family farm in Dixon Springs."
    Pioneer settlers are found on grandmother Kate's side also. William Cunningham born April 10, 1741, died in Tennessee, 1806/7 married Elizabeth Watkins born July 31, 1748, died May 14, 1834. They had nine children, one of which is our great grandmother 5 times removed, Nancy Cunningham, born December 27, 1777, died December 1, 1839.
    William Cunningham, Nancy's father, was a soldier of the Revolution, and in a family Bible is said to have been an aide to General Washington. He also received a land grant for his service and settled nearby on the south side of the Cumberland river.
     My wife and I are now both retired and reside quietly and peacefully, enjoying  the simple pleasures of country living in the house Mother built in 1955 on Daddy's farm she named "Sunlit Hill Farm".
This eulogy was found among Mother's papers. 
Eulogy to Jesse Beasley
Delivered January, 1954
at Dixon Springs Church in Tennessee
by ' Cousin' Web Allen
( Note: Jere Mitchell shot D-Day on Normandy Beach-KIA
Bill Cox B-17 gunner shot down over France-K.I.A. )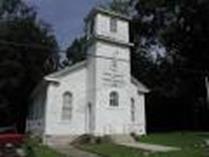 Dixon Springs church
If one goes down to the little village of Dixon Springs, one of the oldest towns by the way, in this section of Tennessee, one sees a public highway leading toward the South and known as the Rome and Dixon Springs road. This road leads by and to where Jere Mitchell lived, where Bill Cox lived, and where Jesse Beasley lived, but they don't live there anymore. They have paid the supreme sacrifice, they have answered to the call of country and of duty.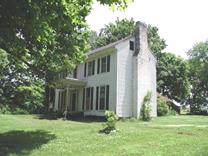 'POINT BREEZE' Beasley home
Today we build a new road not to the home of these boys, but a road that will lead to them where ever God in his infinite mercy has placed them.
And what will we call this road?
Why we will call it Memory Lane, and we will pave it with our love and water it with our tears.
One of the worst sins that we can commit, for sin it is, is the sin of forgetfulness. Surely, surely we will not forget that these boys died with their country's banner floating over them; that banner that is today the bulwark for the safety, the peace, the happiness of all mankind.
Let us remember that had it not been for them, and others like them we, ourselves, might not have the privilege of meeting here, to worship God according to the dictates of our own conscience, and even now the Red Tide which fears neither God nor man threatens to overcome and engulf the entire world.
There are some who ask, what trait of character, what element, tends most toward intensness of purpose, to true nobility, some might say that in the pursuit of religion, the religious, but always the devotee of religion would have before his eyes that greatest of all prizes, the hope of immortality, the promise of life to come.
I say to you my friends that the one thing which tends most to ennoble the individual is patriotism, that patriotism which has no other hope, or promise of reward, than that proud conscience which comes from duty done.
It has been said that " Memory is a truant Jade", and this is indeed most true. There is no limit to its boundary, no confine to its realm.
Today, with me, it wanders far afield, with the eye of the mind I would turn back the pages of time for almost thirteen years and I would envision that day of infamy and of blood the seventh day of December in the year of our lord one thousand nine hundred and forty one.
It was a lords day morning that day set apart to the service and the memory of him who was called the prince of peace.
The scene was Honolulu, so justly called "the pearl of the Pacific".
The sun, a red ball of fire, had just begun to rise from it's watery resting place, when high in the distant sky there appeared what seemed to be a flock of giant birds.
My friends, they were birds of a different kind, birds of ill omen, piloted by vultures looking for their unsuspecting prey, and then they unleashed their horrid cargo, and death and destruction rained down from the sky.
The pride of our Navy lay at the bottom of the harbor and the ground ran red with human blood.
And then there was the call to arms, to arms.
From factory and field, from every walk of life, from the mountains and the valleys, the people of the greatest nation on earth today answered to the call.
They went overseas, they fought on the land, in the air, on the sea and under the sea.
And then two deadly bullets found their shining mark, and Jere Mitchell and Bill Cox, whom we had
 known and liked and loved, were gone from us forever.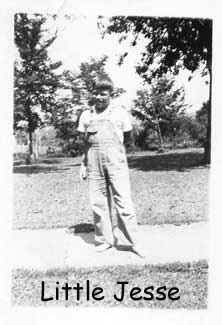 No more will we hear the sound of their marching feet, but somewhere out yonder in a vast and never ending eternity their immortal feet are marching on, marching on to triumph, and victory.
Fate, inexorable fate, perhaps in a way was kinder to little Jesse.
For more than a decade he flew over land and sea.
He seemed, as it were, almost to have had a charmed life, neither accident nor injury came to him, and then the giant plane that had carried him so long and so well carried him to a watery grave.
There are some people who scatter sunshine, there are some people who strew shadows," Bud" was one of those who scattered sunshine.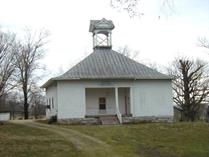 Dixon Springs grade school
He was one of that rarest type of God's creations, a perfect gentleman.
I don't believe he was all Tom's, I don't believe he was all Kate's,
I believe that he was part ours, for all of us loved him,
and when the news came to me that we would see him no more forever,
I felt almost as if I had lost one of my own.
Today his body lies in an uncharted grave, deep, deep, beneath the waters of the Yellow Sea.
Today we would say to each wave, carry this message to him where ever he lies: Jesse we love you, you are not forgotten.
Some days ago in the Capital of our nation I saw the statues erected there to the great and near great.
Today we erect nothing in marble or bronze, but we plant a flower, deep, deep in the garden of our memory and we write on one petal Bill, on another Jere and another "Bud".
They will be remembered so long as men live, who believe, who appreciate, the higher, the nobler, the better things of life.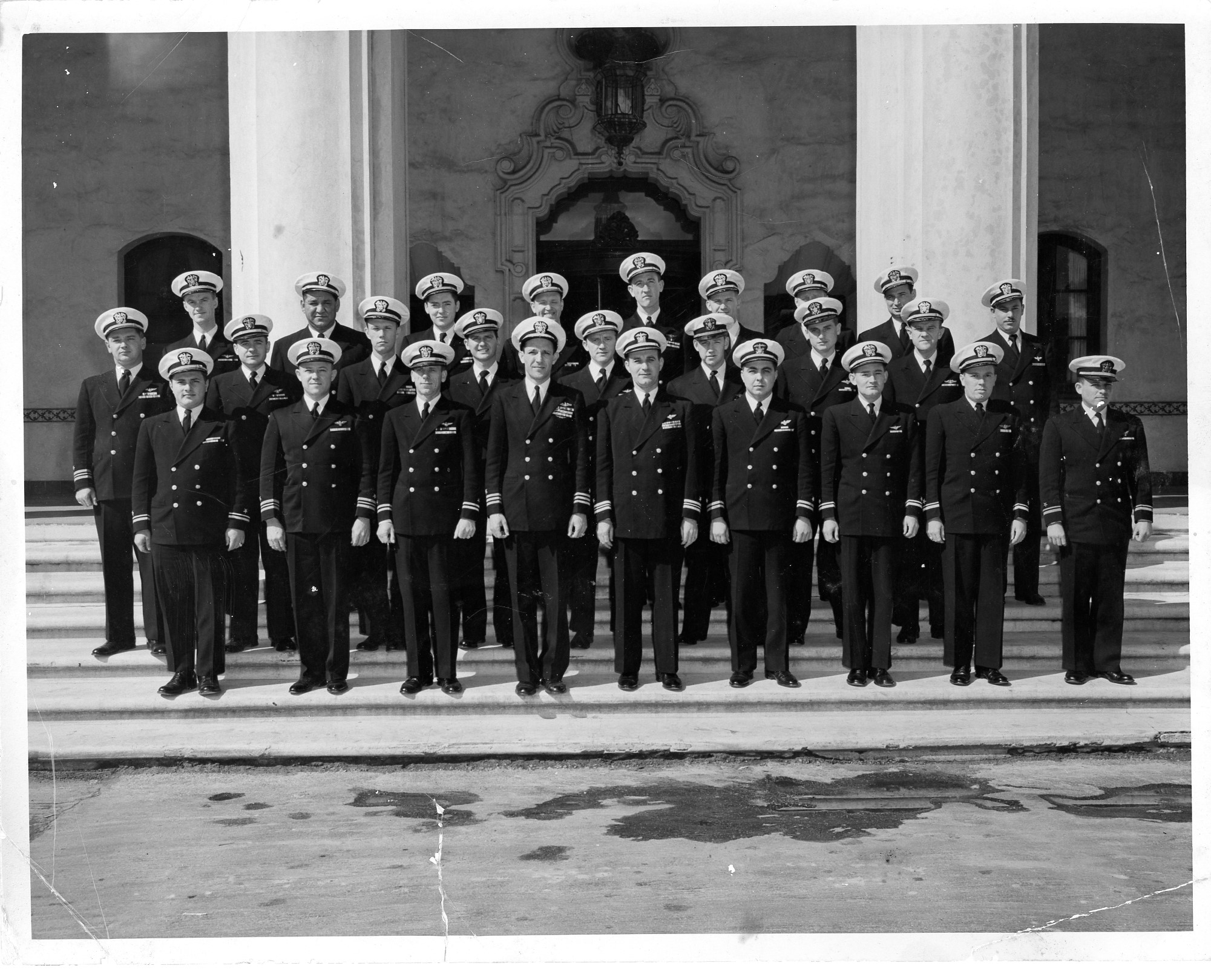 Click for a very large image.
1951 Monterey, California Navy Line School
Front row right Navy Lt. Jesse Beasley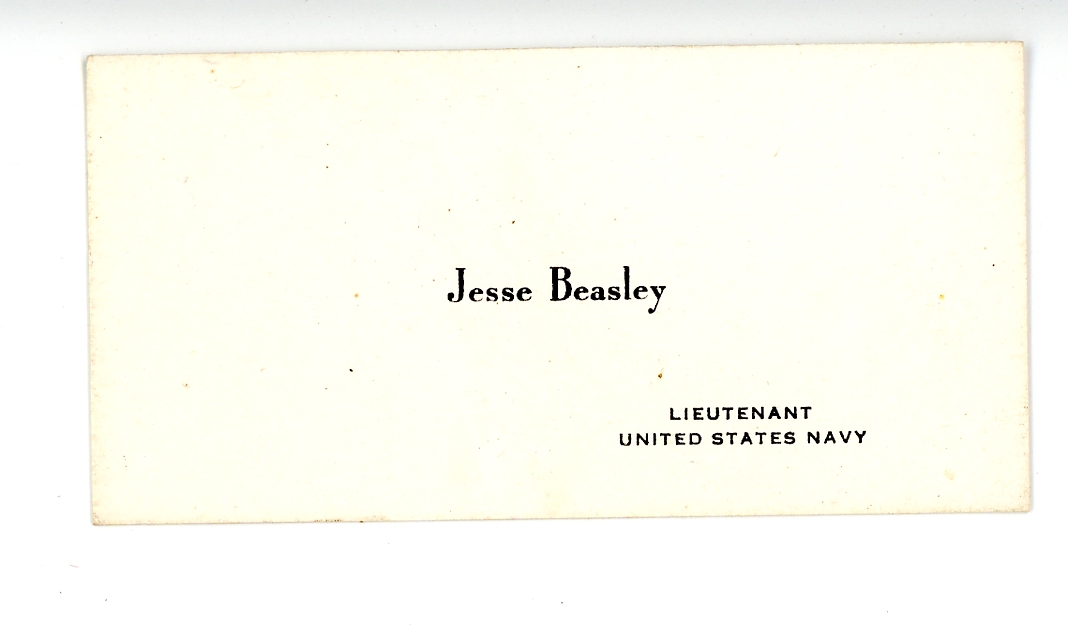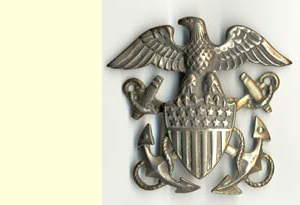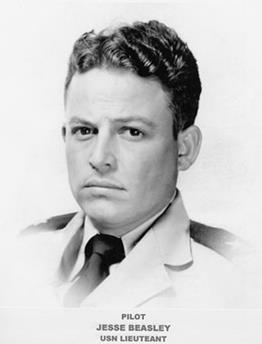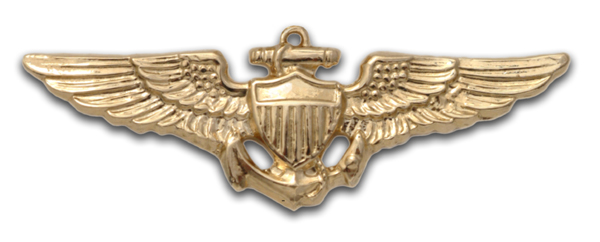 Jesse Beasley Lt. USN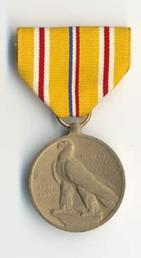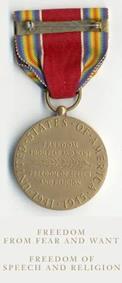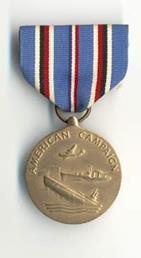 The medals he earned during his 13 years in the navy.
Navy Lt. Jesse Beasley States Honor .org
Together We Served
American Battle Monuments Commission

The 3 webpages listed above continue to provide an erroneous conclusion to the public...
A February 2017 phone call to DPAA-Memphis resulted in an acknowledgement that the crew is no longer listed as "Missing" and are now "Accounted For" but refused to provide additional information.

NOTE: In 2015 the scandle plagued DPMO agency changed its name to DPAA.
NATO USES THE FOLLOWING DEFINITIONS:
Casualty:
In relation to personnel, any person who is lost to his organization by reason of being declared missing, dead, wounded, diseased, detained, or captured.
Battle Casualty:
Any casualty incurred as the direct result of hostile action, sustained in combat or relating thereto, or sustained going to or returning from a combat mission.
Non-Battle Casualty:
A person who is not a battle casualty, but who is lost to his organization by reason of disease or injury, including persons dying from disease or injury, or by reason of being involuntarily missing where the absence does not appear to be due to enemy action or to being interned.
My dear "Satch"- Aug. 16, 1999
I remember your Dad- and you as a little boy and your Mom. So long ago. Paul thought so highly of Jesse-all the men did. He was such a sweetheart, and so respected."
             Excerpted letter to me from Paul Morrelli's widow, Beth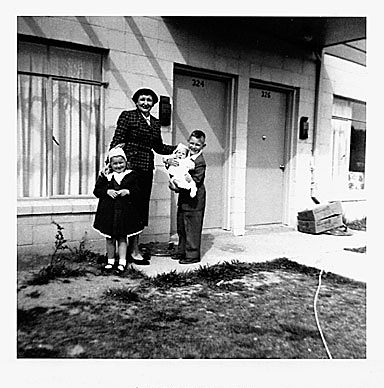 Beasley's Returning to Tennessee
Sarah, Polly, David, Satch
Whidbey Island, Washington

            "Mary Darling, January 11, 1954
I feel Lewis, Mack & Ted can & will do much to replace the children's loss & for that reason am thinking of settling near them.
             Love you so very much, Polly"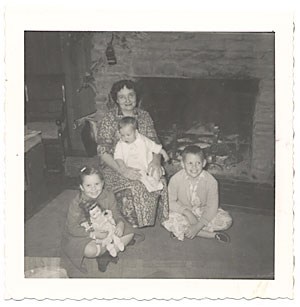 Our next Christmas in Nashville, 1954
The Cover Story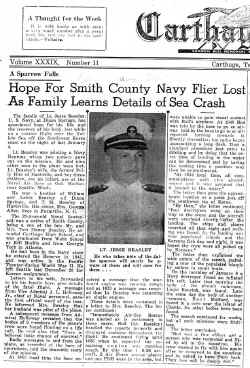 (Click on image to enlarge)
A stubborn, cruel hope was created that he may still be alive!
             "Mary Darling, January 11, 1954
     The first report reaching me was "no survivors". The "missing" report came several hours later and I felt I had sustained the worst from the first and it would not help to build up hope----only to be plunged back to the depths.
              Love you so very much, Polly"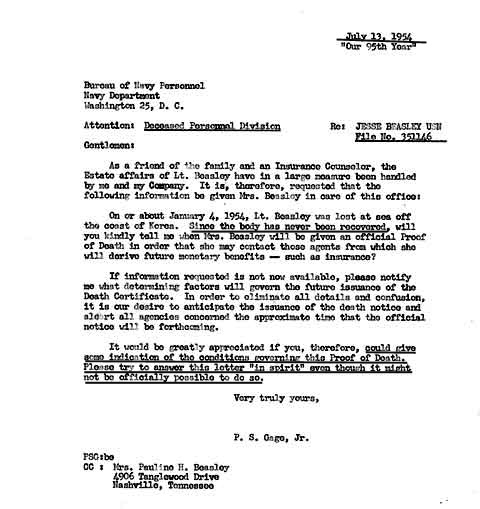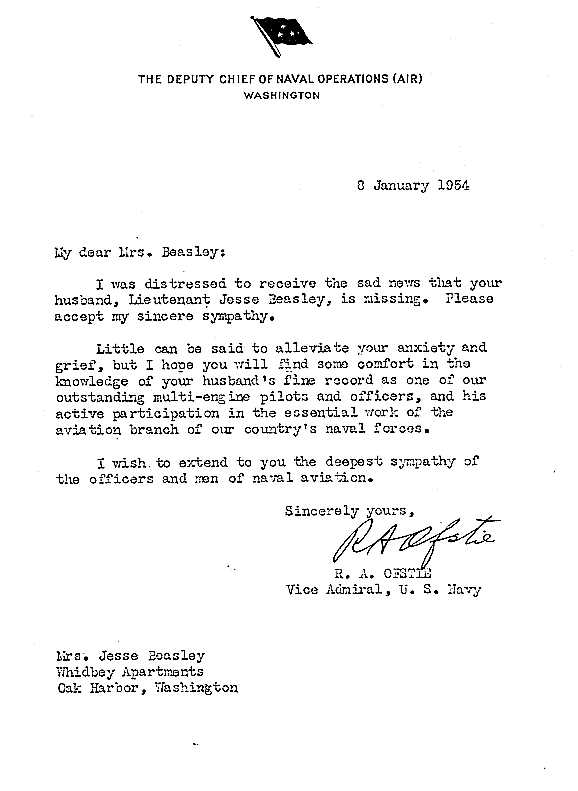 "Lo' Darling, (To my Aunt Mary )
     Everyone exclaims about my bravery & I'm beginning to regret the deceptions. Actually, I'm panic stricken inside. Wondering if I'm doing things best for the children & and if so how long I can keep it up. The future--- the mere thought--- frightens me beyond words.
In trying to grope for some consolation. I look back over Bud's life and find conviction in the thought that his was a full life. He had the absolute love of three women--- yours, Diddy's and mine--- and the adoration of a son and daughter.
All my love,
Polly" ( Diddy was my grandmother's pet name)
__________
     My father served in World War II as a German submarine hunter-killer patrolling in Lockheed PV-1 aircraft over the Atlantic from NAS Beaufort, S.C., then transferring to NAS Whidbey Island before being ordered to NAS Honolulu as a Douglas R4D transport pilot in the Pacific; he had survived the Korean War flying long dangerous patrols along the eastern coast of Russia; he would not survive the Cold War in Korea.
     At the time of my Fathers disappearance, Mother was told that he was on a "training flight" when both of his engines eventually failed forcing him to ditch into the Yellow Sea. This was confirmed in a letter found in my Mothers records. This same letter would also disclose to me, for the first time, that Mother held the belief that he may have been captured by the Chinese.  If Mother believed the Chinese may have captured Daddy then she did not believe that the plane ditched where the Navy had indicated.
The United States Government's "public" position on shootdowns.
Press Release No. 673, November 26, 1954
    "The Chinese Communist authorities are under an obligation to redress in so far as possible the wrong they have inflicted on these American nationals and their families. The United States Government reserves the right to claim compensation as may be determined appropriate, and to demand the punishment of the Chinese Communist officials responsible for the denial of the rights of these persons."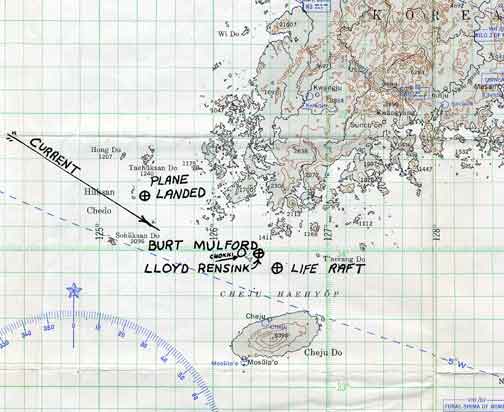 Map sent to my Mother 
     On the map that was sent to Mother, the location was marked as being off the southwestern tip of Korea. Her old letters also revealed to me her fruitless efforts to get answers and details from the Chinese as well as the American governments about Daddy. Until I read these letters, I knew nothing of these concerns she held, for she seldom discussed Daddy's disappearance. Despite being told that my father could not have survived the cold winter temperatures of the waters, for years, I prayed he would return.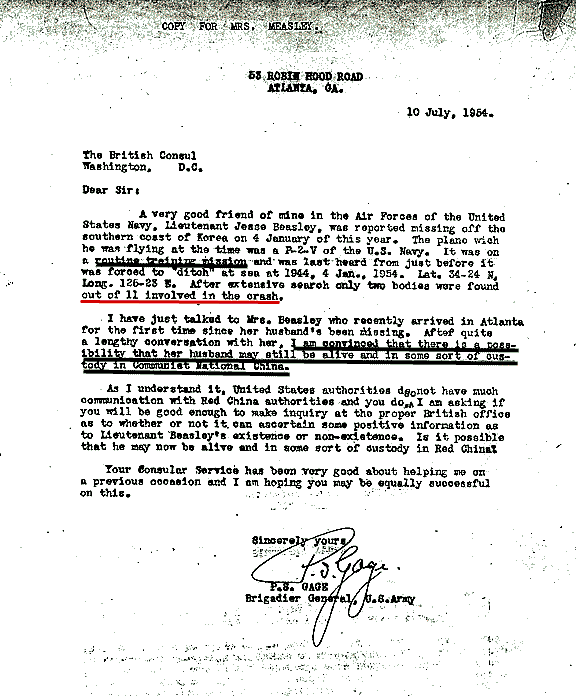 HER BEGGING LETTERS TO THE DEPARTMENT OF THE NAVY
RESPONSE LETTER FROM DEPT OF THE NAVY.
HOLDING MONEY FOR HIS RETURN!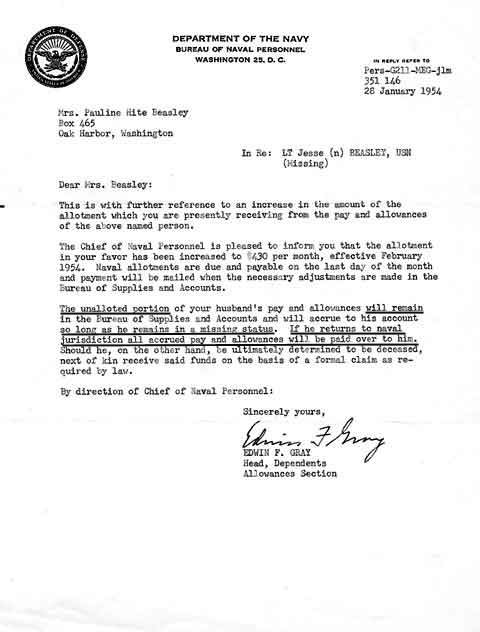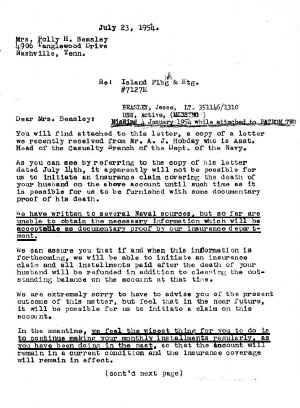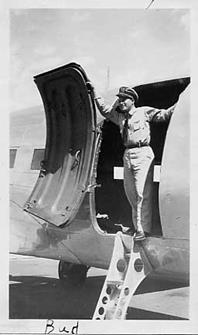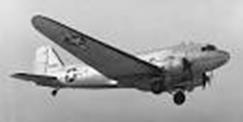 Navy R4D
     " I suppose Polly has mentioned my wanting to stay in the Navy. I know that I will have a hard time selling you all on the Navy but here's the way I look at it. I have worked myself up to a good position. I will always have security and the best of everything."
Excerpt from an undated letter from my father to my uncles and aunt.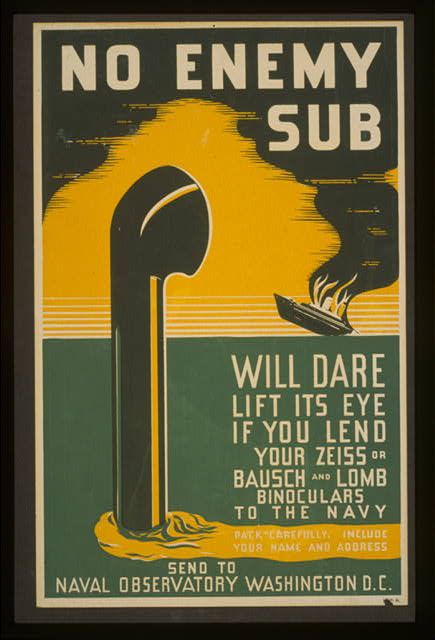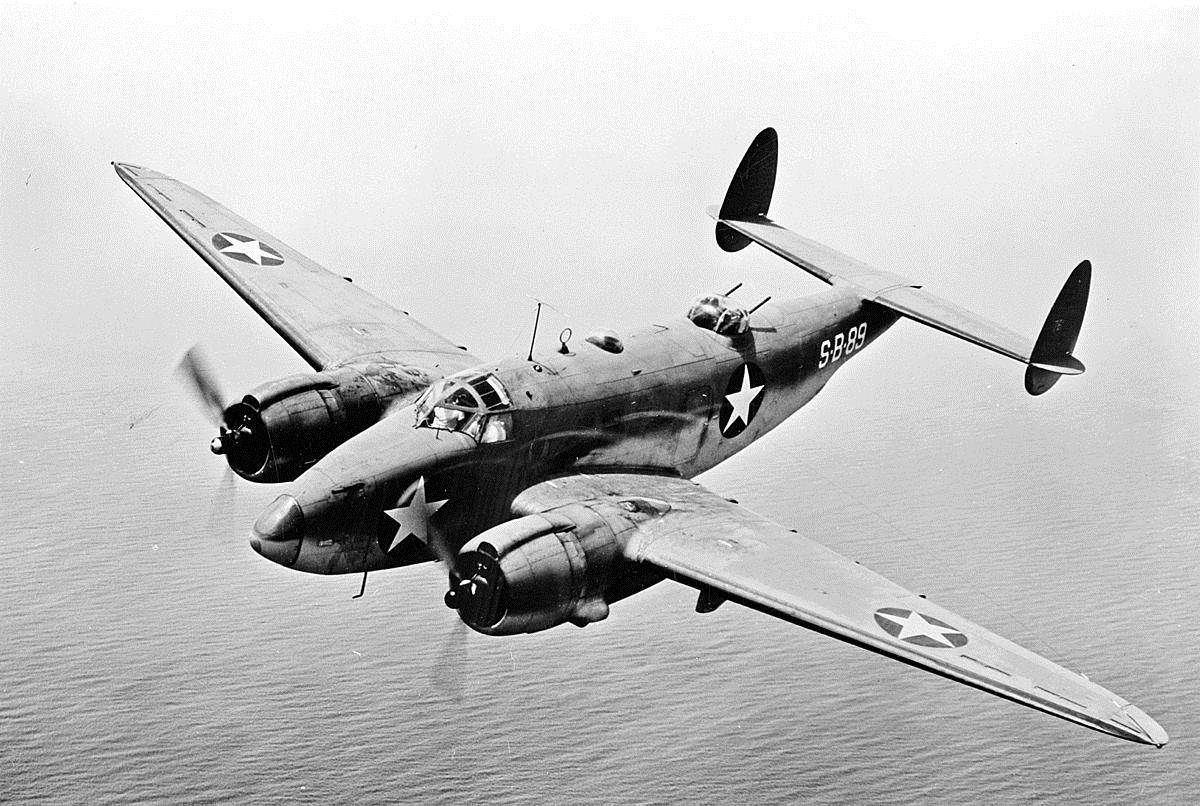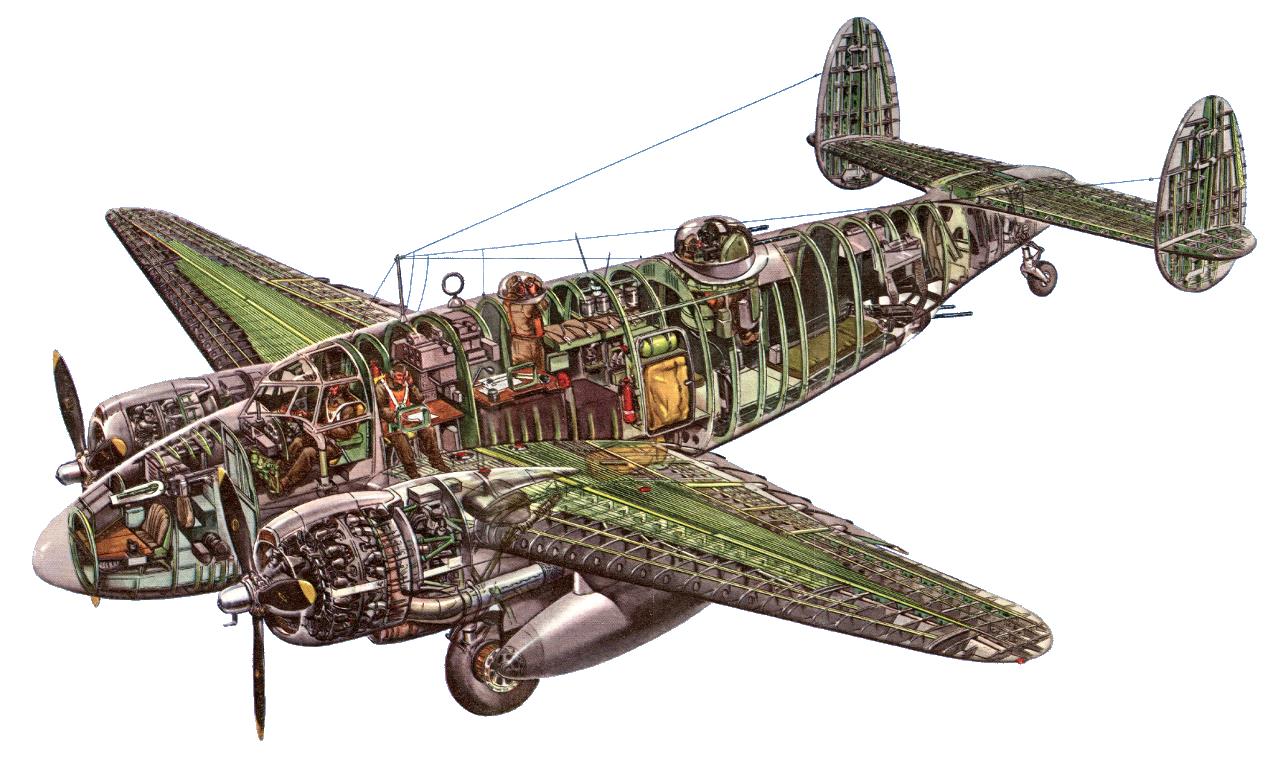 Click for a very large image.
Lockheed PV-1 Ventura
LtJG Jesse Beasley attached to VPB-199
Ault Field NAS Whidbey Island
From Sept 1944 to Dec 1944
              "Dear  Satch:
     I was in VB 199 at the same time as your father, but I do not recall knowing him , although the name Beasley strikes a familiar note. Those day's were a long time ago, but if I do happen to remember your father I will let you know. Yes, VB 199 was stationed at Whidbey at this time and yes we were flying the PV-1's.VB-199 was a training squadron. You should be very proud of your father, only the best pilots were picked to attend VB-199 and fly the PV-1. We were the first multi-engined pilots to fire air to ground missiles and the first Naval pilots to receive GCA (ground control of aircraft) training. God bless.
            L.G.W.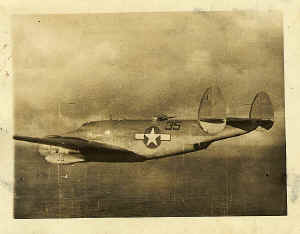 "Flying sector with Norm"
Lockheed PV-1 Ventura of VPB-199
Based NAS Whidbey Island
Photo taken 1944 by LTjg Jesse Beasley flying co-pilot
Anecdote [Year 1944-VPB-199]
          "Dear Satch,
Bud-"Satch" your Dad was special and always will be, and so will be, Polly to us.
Satch was my co-pilot in PV-1 aircraft at Whidbey Is. and these orders "came out of the blue to us". We were training and headed eventually to the Aleutians. Not a happy future, and we were both excited about these orders and a new adventure into an unknown area.
Our orders, dated 12 Dec.,44, were a bit strange, issued verbally and as we soon learned involved special flight instructions from the Marine Corps. For about 6 weeks all flying was under instrument conditions; including take off under the hood, and landings just prior to touch down.
This included stalls at 8-10,000 ft., single engine emergency, small field procedure, very little instrument radio range work. The last week was spent flying the Corps Supply run to Mojave Desert ( secret test base)-Santa Barbara, El Toro Marine Base, San Diego Base & return to El Centro.
There were 5 complete crews involved in this special Corps training and all planes were brand new with latest NAV. equipment and (2) long range tanks built into the main cargo space behind the main bulkhead near the radio compartment.
We surmized ( but could never prove) later that this special set-up was to drop the atomic bomb on Japan. The bomb size unknown (but quite large) would be slid out the cargo door on tracks over designated target. Later, when the B-29 was developed, higher authority decided to use that A/C.
.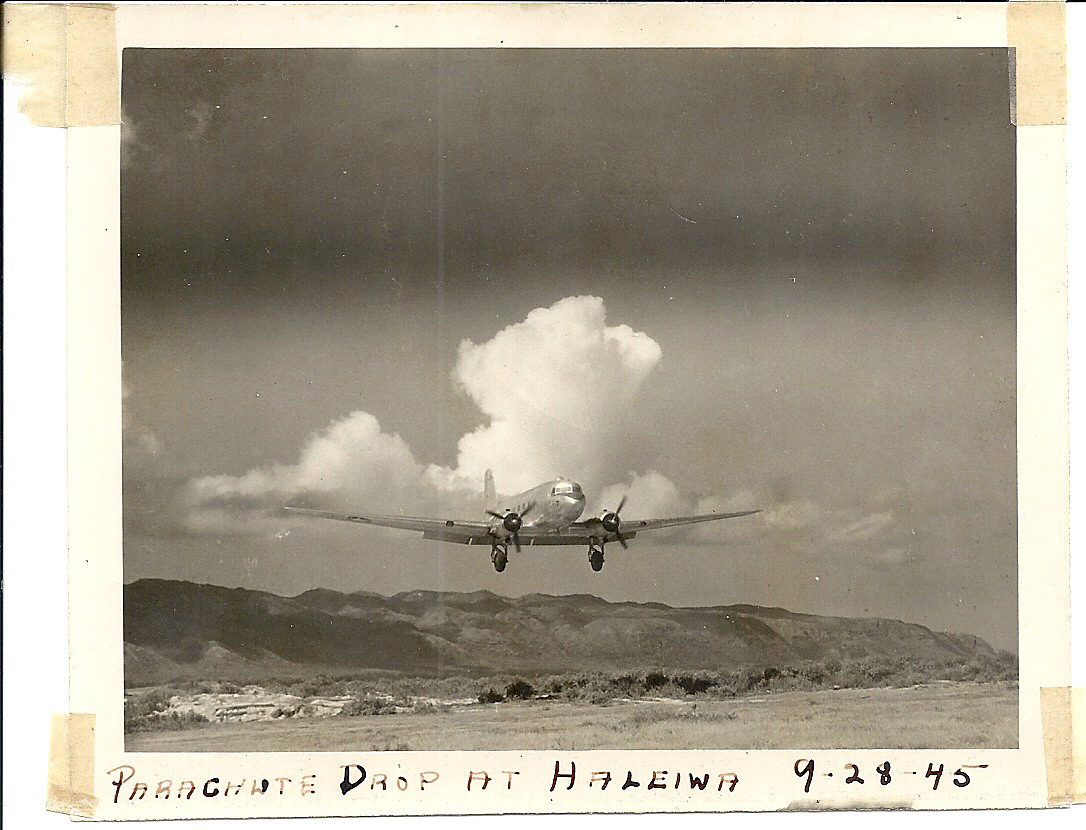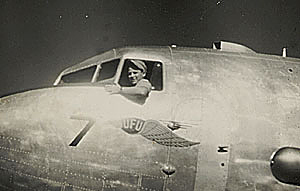 UFU=Utility Flight Unit
NAS Honolulu - Utility Flight Unit Navy No. 29
Meanwhile, all three of us ended up at UFU, Honolulu, happy to fly every day in decent weather with excellent maintenance, housing, good food, and hopes for the future. We had more A/C than pilots and often flew with no copilots. Navigators were not needed and in a few weeks , Satch and Jess, were Plane Commanders along with the rest of us in support of the Marine Division at Hilo, Hawaii and other out lying islands in training for the island invasions later on.
Love to you and yours,"
Chuck Burbach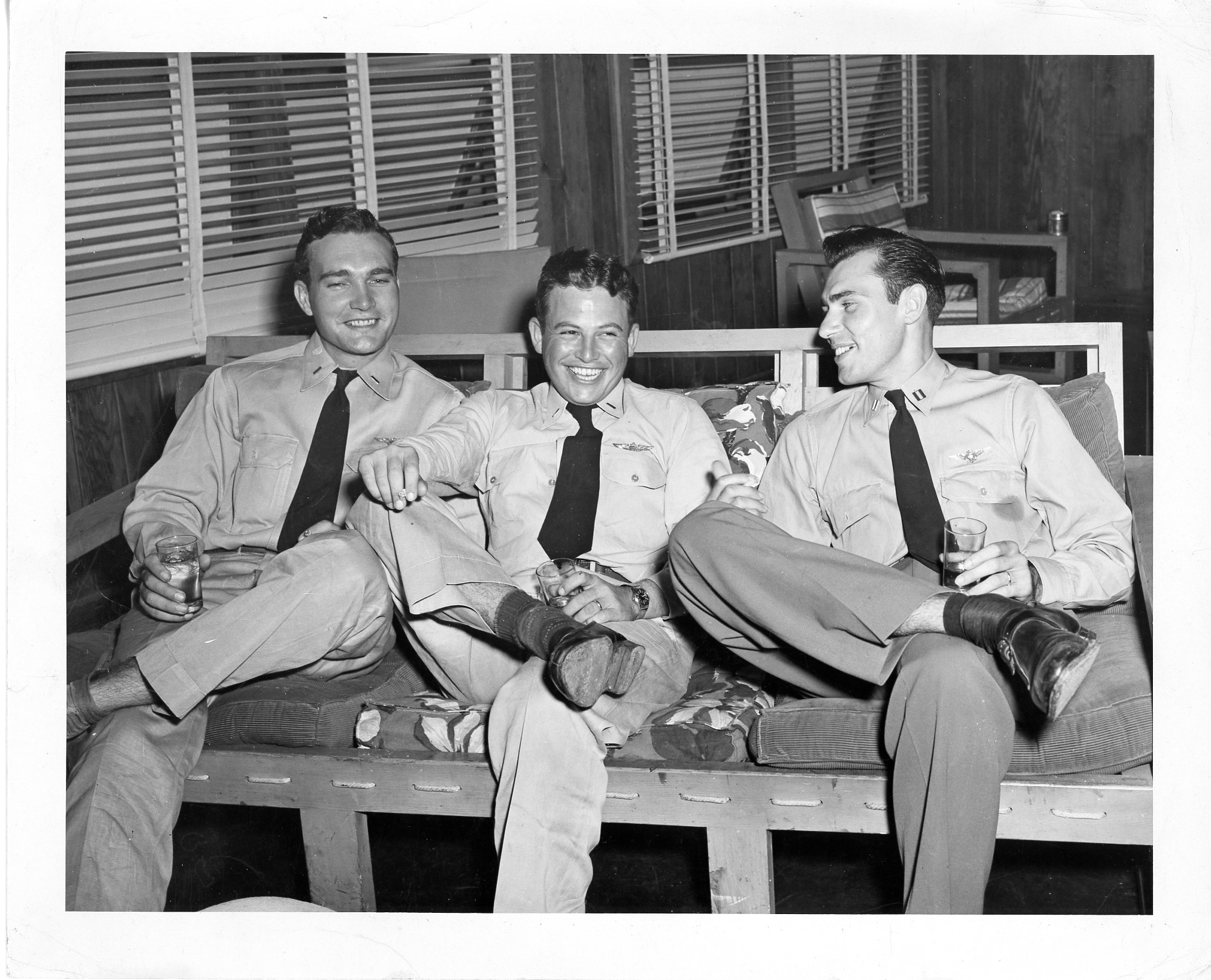 Click for a very large image.

THE NAVYATORS
NAS Honolulu - Utility Flight Unit Navy No. 29
LEFT: LTJG Silvester (Jess) H. Lynn - Killed - P2V-Wing failure 1950
http://www.vp4association.com/fallen-shipmates/p2v-lost-at-sea-nov-27-1950/


CENTER: LTJG Jesse Beasley - P2V-KIA 1954
RIGHT: LT Chuck Burback - Retired banker / deceased 2007

Anecdote forwarded to me:

" I served in VP-2 with Lt. Beasley and knew him quite well. While in Whidbey and after a few at the club, Bud proceeded to climb the water tower and planted the Confederate flag on the tank. Next morning, the Admiral saw the flag and ordered it taken down. Problem-no one volunteered to climb Tower in daylight which Bud had done at night! It was finally removed after several days. I was transferred out of VP-2 prior to their deployment to Iwakuni."
            Vincent Deitchman USN Retired

Anecdote:

            Dear Charles,

                   I knew your dad and he was my division officer when he was in charge of the Material Office. I was a recruit from the North Carolina hills and had never been out of the county I was born in until I joined the navy.

             I have a short story I would like to relate to you about your dad and mom. There was a time when we were at Whidbey when Mr. Beasley ask three of us to help move some things(furniture I believe) to their home. It was on a Saturday morning. We got through and he asked us to eat lunch. We sat at the table and your mom brought the food on to the table. With the food was a large bowl of Pinto beans and also onions and corn bread. He had heard me talk about eating beans, onions and corn bread back home. I will always remember that."

Excerpted from an email from a former member of VP-2

                  "On behalf of men like me who live comfortably under an umbrella of electronic surveillance and countermeasure targeted at the DMZ, thank you for the sacrifice your father and men like him have made."

             SSgt J.-- H. ---

             Kunsan AB, Republic of Korea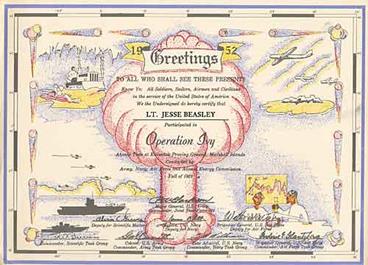 Operation Ivy
1952 Hydrogen and Atomic Bomb Tests
Link to PBS Video on Operation Ivy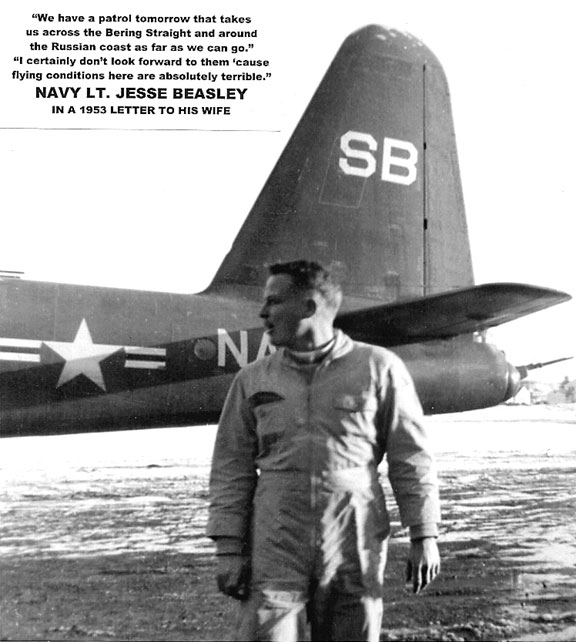 Photo from the Bruce Berger collection.
Patrol Plane Commander
Lt. Jesse Beasley
Returns from the Russian Periphery

               "All that I can say to you is that I flew with men like your father, they were all fine men doing a very hard job. We took many risks and I am one of the lucky ones that got away with it. You can be very proud of your lineage, they don't come any better."
             Email excerpt from a former PPC
             "Hi Sister Mary,

Yep, I've been called back to my old squadron to go to Iwakuni with them. I'm replacing the maintenance officer who has a sick wife.
              Love, Bud"
Cold War heroes Secret missions and secret deaths

U.S. reconnaissance flights have a long and tragic history

     The wives and other family members of missing Air Force and Navy reconnaissance crews were routinely sent telegrams telling them that their loved ones had been lost on a "routine training mission" over the Sea of Japan or elsewhere. It left the impression that the hapless airmen were too incompetent to survive even a routine training mission.
     In reality, they were brave and highly competent fliers whose job it was to conduct continuous peripheral reconnaissance missions in a program originally called the Peaceful Airborne Reconnaissance Program, or PARPRO, that ferreted radar and intercepted enemy communication traffic.
William E. Burrows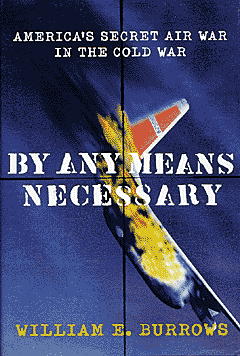 William Burrows' book, published in 2001,
contains a story of
3 Cape Cod
and includes a Memoriam to the crew.
"Dear Mr. Beasley, March 21, 1999
     I believe that there is much more to this Cold War story than the government wants revealed. But I also believe that (1) the "secrets" of that period should no longer be secret; and (2) that fliers like your father ought to be publicly recognized for being the heroes that they were, not swept under the political carpet by a government that no longer needs them.
Most Sincerely,
Bill Burrows"
Almost forty years after the disappearance of my father and with the collapse of the USSR, America began to celebrate her victory over the long, Cold War and also began a time of revealing Cold War secrets and mysteries. A 1993 magazine article written by William Burrows describing secret reconnaissance flights along the borders of communist countries brought me new hope that I might possibly locate my father's stricken aircraft in an effort to find possible remains as well as discover the details for his disappearance.
     My brother made the next attempt to obtain more information by writing the Navy for details, but he only received a short letter saying that our father was killed in a military aircraft accident.
Our family felt that Vice-President Gore would be willing to help a hometown family discover more information, so our efforts turned to his office in Carthage.  Within a week of my sister's request to his office, we received a 43 page Navy accident report. Initially the Navy accident report was the only evidence available, but after careful perusal many inaccuracies were noted.  Listed maps as well as other pages from the Navy accident report were missing. What did the missing pages and map contain? These obvious discrepancies prompted me to search further into events of the night of January 4, 1954.  Something was very wrong with the report.  Coordinates were almost 200 hundred miles from where they logically should be, the radio log transmissions did not correspond to father's commanding officer's letter to my mother describing the events that night and there now appeared to be not one, but two possible crash sites.  I turned again to Vice-President Gore's office with my concerns for these discrepancies but this time he would not respond.  After six months of phone calls to his office, I was simply provided with a Navy Dept. phone number to contact myself.  I reached Navy Cdr. Tim Coolidge whom I asked to meet with to share my discoveries. He declined a meeting with me saying that the Navy didn't normally meet with families about such matters but to list my concerns and send them to him. I did as he suggested and after months of receiving letters of no substance from the Navy it was apparent that they had no interest in explaining the discrepancies, nor in searching for the remains of my father.
"Once you eliminate the impossible, whatever remains,
no matter how improbable, must be the truth."
                                                                          Sherlock Holmes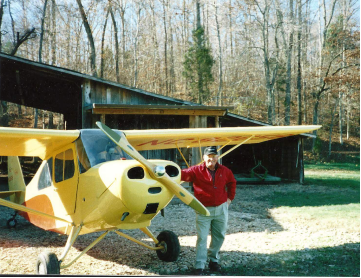 My wife and I sold our Aeronca Champ and Mother gave from her meager purse to fund the Korean waters search .
THE CRASH SITE IS NOT HERE!
Armed with the four radar plots found in the Navy's accident report that said, "Headquarters 527th Aircraft Control and Warning Group reported the following radar fixes that they believed to be the distressed aircraft." I went to Korea to personally search using these coordinates as my guide.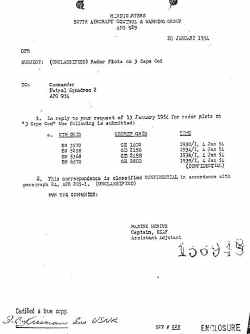 Radar Plots
(Click to enlarge.)
After making two trips to Korea and completing three separate searches in the waters of South Korea, no trace of my father's plane was found. Weeks of searching in Korean waters produced not one sign or indication as to where my father's plane could be found, only where it definitely was not to be found. The Korean sonar company's highly experienced personnel and top-of-the-line equipment would have found the plane if it was there. It just wasn't there. In the Navy's accident report, the last radar fix was reported to be picked up by the 527th ACWG five minutes prior to 3 Cape Cod's last radio transmission before crashing, therefore, I felt reasonably certain that with basic navigational plotting I could locate it.
At each search, a person would announce himself as having CIA connections, would be present and involved in the search in some capacity.  One was a Marine claiming CIA connections and doing book keeping.   The other was a salvage attorney who claimed to be CIA.  No thought was given to their presence at the time.
The positions in the Navy Accident Report proved fraudulent!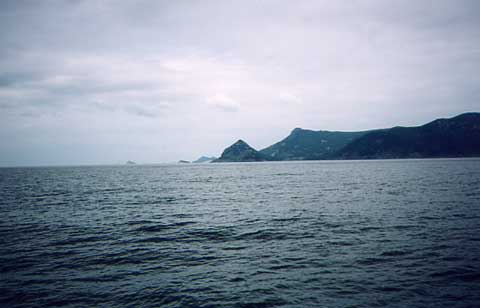 Search Area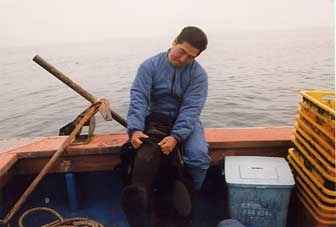 Trip using a diver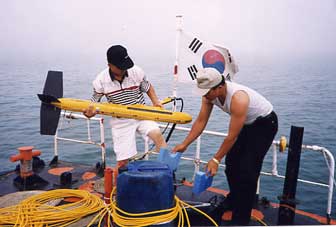 Trip with sonar equipped search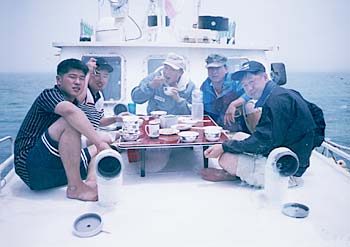 The Crew-all great men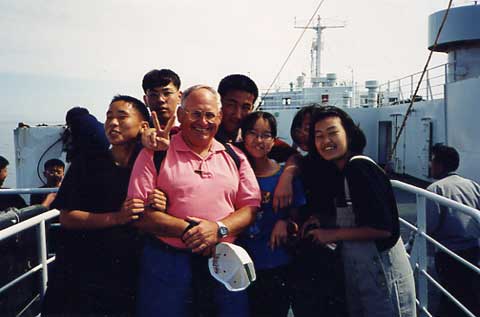 On the Ferry from Cheju-do to Wando
All high school students wanted to try their English with an American.  It seems the schools teach English but have few teachers who speak it.  We had a great time together.  I found the South Koreans a very warm, friendly and direct people.

"Lo' Darling, ( My Aunt Mary) July 3 (1952)
This P2V plane is an electronics monster and I worry about it. It is used chiefly to track submarines.
Dearest love to all, Polly"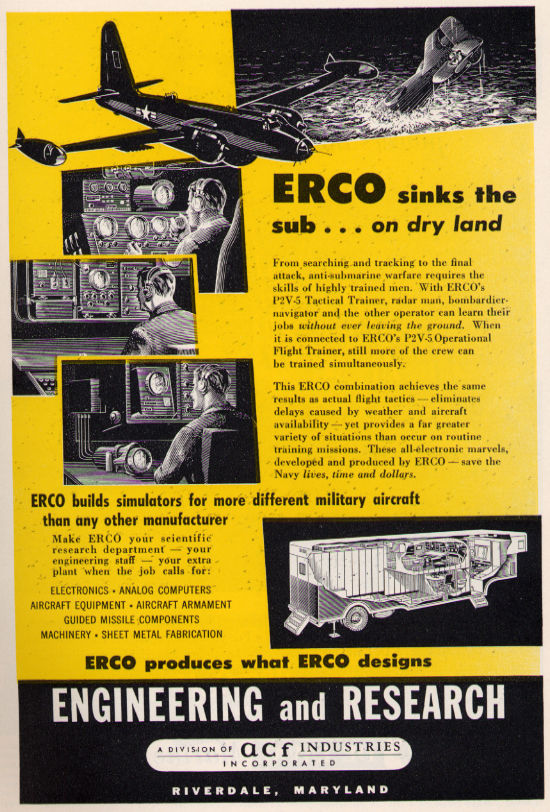 P2V-5 Tactical Trainer Ground Simulator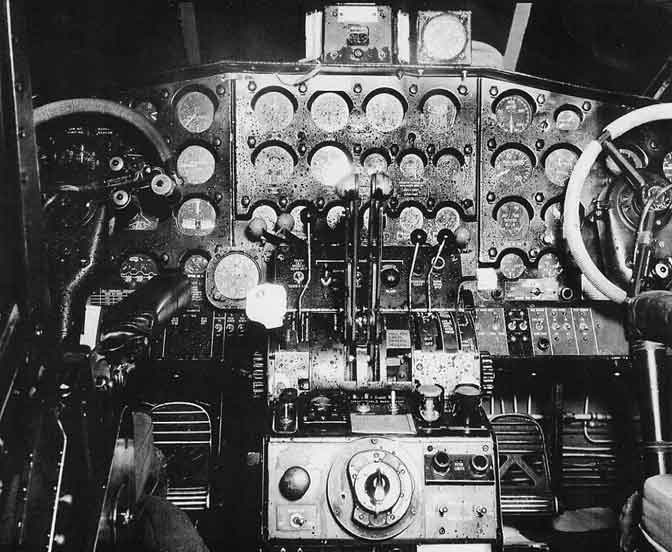 P2V-4 BuNo. 124250 Cockpit
My Father's Office in 1953
     "I am now Officer in Command of the training unit. We have 8 planes and train all the pilots coming into the patrol squadrons on the west coast. I fly quite a bit but nothing like the rat-race one is in while in an operating squadron."
Excerpt from a 1953 letter from my father to my Aunt Mary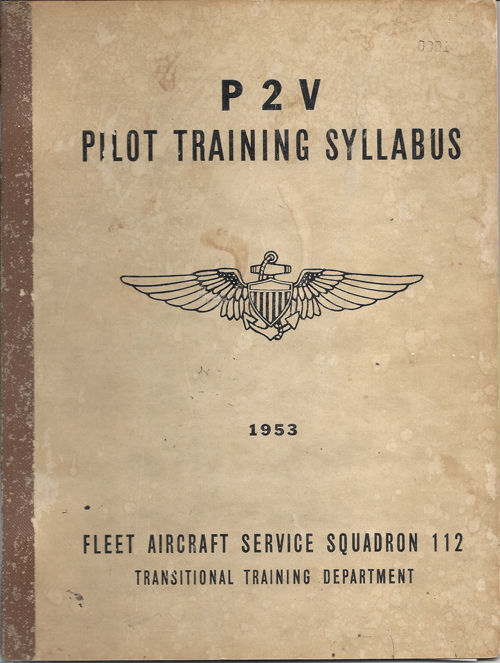 My Father's P2V Training Syllabus
(Click on image to enlarge)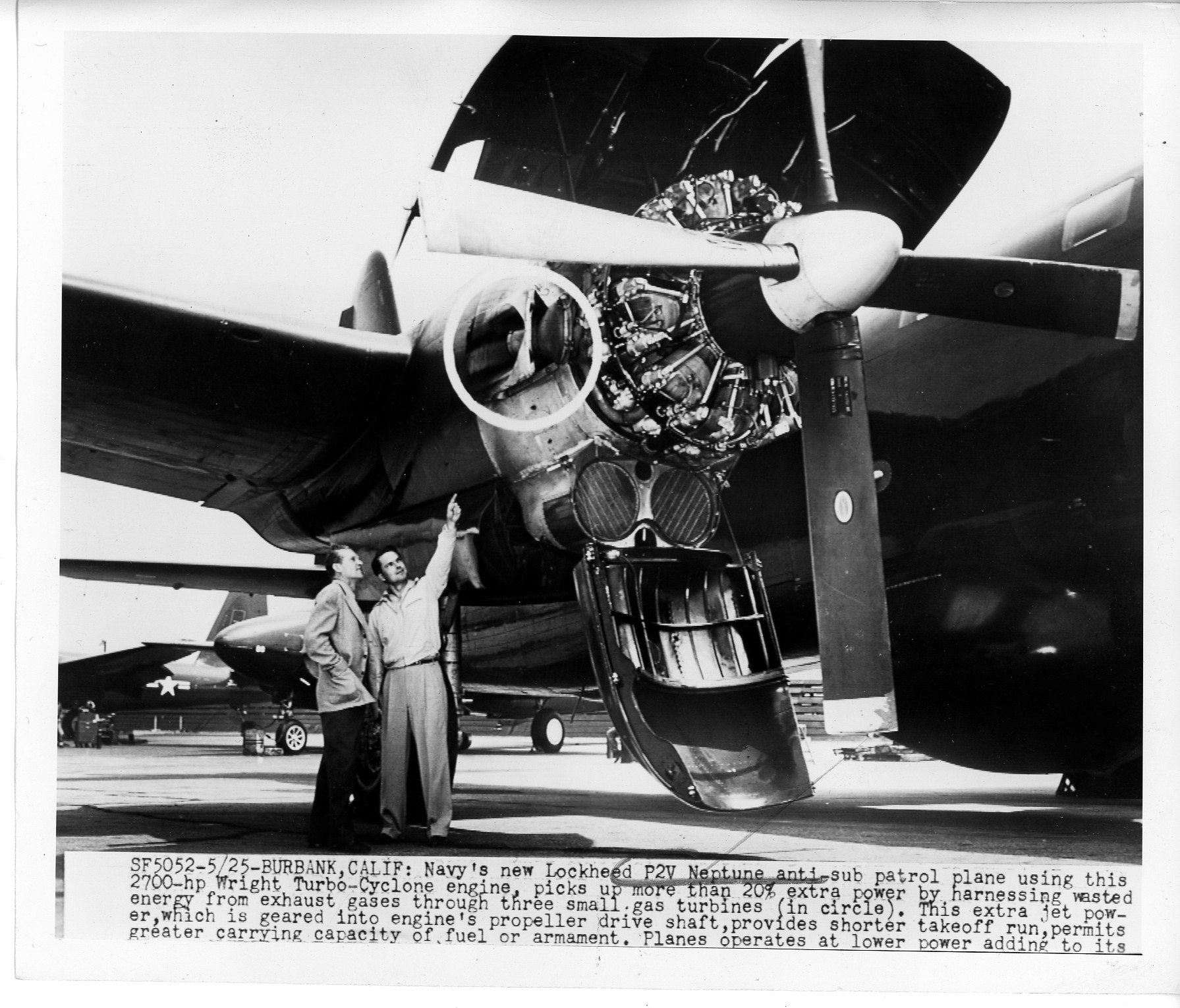 Click for a very large image.
P2V-5 Neptune Engine Open Cowl
P2V-5 Lockheed Neptune Engine
(Click to Enlarge)
The Curtiss-Wright R-3250 Turbo Compound was one of the most powerful radial reciprocating aircraft engines produced in the United States. It was a twin-row, supercharged, air-cooled, radial engine with 18 cylinders. Providing 3250 h.p. for commercial use, to 3700 h.p. for military aircraft. Turbo Compounds powered the Super Constellation and DC-7's and on order by 27 leading airlines of the time.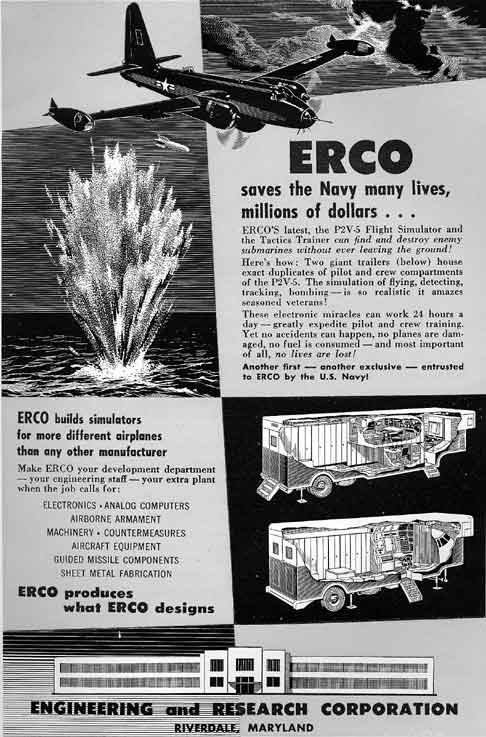 P2V-5 Tactical Trainer Ground Simulator